Austin born and Seattle raised, Andrew Moon Bain moved to Providence in 1993 to attend Rhode Island School of Design and has made his life between Providence and Brooklyn. He is a painter, printmaker, musician and prolific record producer. His art work explores life for the diaspora, dreams, human and environmental crisis, current events, identity and spirituality. Bain currently lives and works in Central Massachusetts.


Angel Quinonez was born and raised in Central Falls and the Providence area, graduated from the Arts Magnet program at Hope High School in 1991 and Brown University in 2001. He is a painter, sculptor, and tattoo artist who has been featured on VH1's Black Ink, is best known for his large scale multi-media public works and has shown in collections throughout the country and South America. He paints in large format honoring artists, thinkers, humanity and nature through graphic portraiture. Quinonez is currently working on new collections of work while also tattooing at Lucky 13 Tattoo in Richmond, VA.


Of Italian and Lebanese descent, Brett Cimino is a Rhode Island artist transformed after 25 years working long hours as a plumber. His paintings explore the pain, joy and absurdity of modern life through intimate tales and are full of irony, humor and terror. "I was born an artist, but have lived a tough guy life holding it all in," explains Cimino, and literally from the dark damp of crawl spaces, Cimino compellingly reconnects to the world and himself through his painting.


Joel Rosario Tapia is an aboriginal urban artist of Puerto Rican descent who was born in Providence and served 2 tours in Iraq with the US Army. Influenced by indigenous Taino culture and Hip Hop, his work tells stories to keep the spirits present.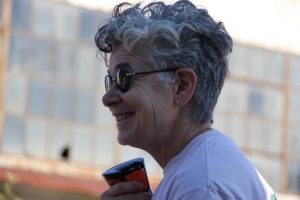 Rhode Island artist Monica Shinn paints large format dreamscapes that integrate everyday moments with spirit driven visions. Her work is delicate, roomy and calling. Also a welder and environmentalist, Shinn calls Fox Point home with her wife Mare.


Peruko Ccopacatty is an internationally known indigenous sculptor who lives in Rhode Island and was raised in the Andes of Peru. He says, "My sculptures have a relationship to time and distance. My work reminds me of my history, my spirit doesn't forget this ancient dimension. As a sculptor, I have this same urgency to connect the past with the future." He creates fluid gestures of humanity and nature in metal and can be found in private and public collections throughout the world. To learn more see his website http://www.ccopacatty.com/


Savonnara Alexander Sok is a Providence artist of Cambodian descent. Born in Long Beach, CA, Sok spent his teenage years in Omaha, NE and came to Providence after to join family. He activates Buddhist and Hip Hop sensibilities to describe feelings impossible to put into words. Sok is an emotional painter who processes tragedies, miracles and love while working. He says, "We're all born together. Different times. Different beginnings. But we're on this earth together. And we end up at the same exact destination. Our energy gets put back into the universe where we all began."


Calling Providence home via California and Texas, Sierra Sanchez is a painter with unique vision who is currently studying at the Rhode Island School of Design. Working through personal narratives, she creates stills describing moments of decision, dreamscape and intimacies with surreal sensibilities giving room for dreamy rumination on the before and after.

Evans Molina Fernandez
Sandra Barratt
John Bhogal
Andre Brown
Justin Case
Carlotta Carzaniga
Crandon
Ariel Cruz
Small Frye
Mel Green
Jeff Honforloco
Irese
JEROCK
Emma Jocelyn
E'ean Johnson
LaNita LeBron
Nixon Leger
Lvngstvn
Scott Mayo
Satchel McCarthy
John McDonough
Cynthia Ross Meeks
Soraia Melicio
Don Mays
Andrea Perez Bessin
Sun Quest
Jose Ramirez
Junebrone Savage Blaq
Toby Sisson
SKRAM
Matt Tracy
Joshua Vega
Raul Velasquez
Shari Weschler
Tom West